What's New
TechGear welcomes it's newest Staff Members. VixenWyldFlame and x Evil x. They are heading up the new TechGear Designs Section soon to be released. We now offer free graphix design, site layouts, flash, and more.
View a sample of our flash by clicking HERE
TechGear Choices
Visual Basics
PSP 7
Ulead Cool 3D
Banner Maker Pro
Swish
CoffeeCup FireStarter
Front Page
First Page
DreamWeaver
WS-FTP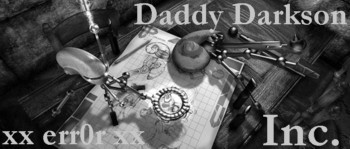 Welcome to TechGear© a subdivision of err0r & Daddy Darkson Inc. We provide a site full of valuable information on MSN and computer related topics. We offer the latest in MSN program downloads and breaking MSN news. TechGear's goal is to set the standard for which all MSN related web sites strive to achieve. Having said this we do not intend to try to discredit other related sites. TechGEar is a MSN Program Site Network member. This means that all sites are welcome to be affiliates and are welcome to add any program they find here to their own site. We don't require any credit for it but it would be nice to be acknowledged for our efforts. In addition to MSN related items we offer a wide variety of other topics and information. We also provide Free Design help and images. These range from custom made gifs, jpg, site design, flash, and more. We hope you enjoy the services we provide and please check back often because this site is updated on a regular basis.
This site is best viewed in 800 x 600 pixels
using IE 4+ medium text size
04/14/2002

Added more messenger bots, updated the scripts section and added a Mode Definitions list in Information section.

04/12/2002
Added IRC Dominator's latest release
04/03/2002
Added Chronos Protector by Tellinusis and Loopy2002 by TechGear's own DaddyDarkson
04/01/2002
Added the updated SyamBot v2.1
03/20/2002
Added two Chat programs ~Dystopia and Eternal Client. Thanks to www.klownbotz.vze.com
03/09/2002
Added more viper help guides under information section
03/02/2002
New Viper 3.80 Update Here. Get it on mirror 2, 3, and 4 under chat bots in the download section.
02/24/2002
Most of the site is operational
02/16/2002
Download section is functional
02/14/2002
Inception of TechGear. Started by err0r and DaddyDarkson the makers of the err0r.vze.com and BotCollectorsX sites.
Hit Counter
Links Recommended by TechGear